A lot of you will know that I worked with Tony on projects to access and release the band's catalogue over many years, right up to just a couple of days before he died. His passing will leave a large gap in our lives. Tony had been subject to a number of serious problems over the last 18 months or so, but even during spells in hospital managed to keep in touch via his Blackberry and latterly iPad.
I think it was a measure of the man that even when we disagreed over things, which wasn't that often over some thirty years (and over 100 releases or more), it was still hard to get too angry with him. He was remarkably generous in allowing me to tackle many of the reissues as we saw fit, trusting in our judgement. The result has been a back-catalogue which more than did the band's music justice, and which was often the envy of fans of other groups.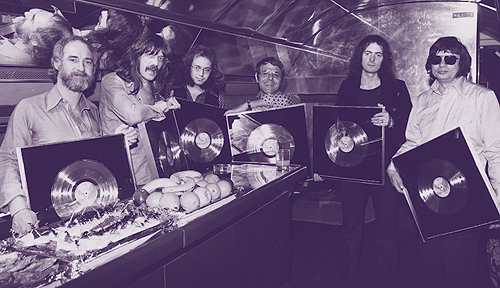 It was without doubt Tony's love of spotting an opportunity which sparked life into the embryonic contacts between musicians which evolved into Deep Purple, and which he and business partner John Coletta (who died in 2006) sunk money into for a couple of years until the breakthrough album In Rock justified the faith of all concerned. My own memories of Tony are many; it wasn't being whisked around London in his old Bentley as a 20 year old that impressed me so much as his vintage Sherlock Holmes attire of a deerstalker and cape, old school even then and especially incongruous for a man who was at the time managing Toyah and Jayne "If You Don't Want To Fuck Me Fuck Off" County at the height of the punk era.

More interestingly to me Tony still retained a love of Deep Purple's music, not something many managers can ever be accused of. When we were working on clearing the BBC broadcasts for the first time, he rang up at some unearthly hour of the morning excited by hearing the old broadcasts for the first time, feelings which more than echoes my own at hearing this material in pristine shape for the first time. This week we'd been gathering our thoughts for a slew of exciting projects being developed for 2011 in connection with the anniversary of Smoke On The Water, in preparation for a meeting when he came out of hospital for what we understood was to be a short stay for some restorative surgery and physio work.

Deep Purple and their music have been a part of many of our lives for years, and while at the end of the day it was the musicians which created that often superb body of work, it was in large part Tony Edwards who helped sow the seeds back in the winter 0f '67. Thank you.


Photo: Tony Edwards on the far left with members of the band (and his business partner John Coletta far right) aboard the Starship in 1974.
-------------------------------------